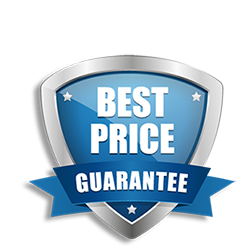 We beat our competitors in Price & Quality
With our Lowest Price Guarantee, we will beat our competitors prices by 11%.
If you find a better price on the same sit down blood pressure kiosk (you purchased at AMS) from another dealer within forty-five (45) business days, we will refund 111% of the difference (100% of the difference plus an additional 11%). Or if you find a better price before you purchase, AMS will discount our price to you by this same amount. All you need to do is send AMS a valid quote or invoice from another dealer.
Just fax or email the advertisement or webpage showing the lower price, and if it meets our guidelines, we will beat that price.
Lowest Price Guarantee Guidelines:
Guarantee is valid only for identical items and quantities. Items must be in the same condition, packaging and be the exact same model and part number.
The item must be in stock and available for immediate delivery from another authorized dealer.
Quantities available for Guarantee may be limited.
Guarantee may not be combined with any other promotions, coupons, rebates or discounts. However, if the competitor's quote includes free shipping, we will offer free ground shipping.
Guarantee does not apply to typographical errors on our competitor's websites or publications.
Guarantee does not apply to online auction sites (e.g. eBay).
The item must NOT be a closeout, clearance, or below-cost item.
Some items may not be eligible for Guarantee due to manufacturer pricing restrictions.
Lowest Price Guarantee is available up to forty-five (45) business days after the date of purchase. Please feel free to contact us about our Lowest Price Guarantee before making a purchase as well. If we are unable to verify that all of the above conditions have been met, we will contact you and request additional information.