G3 Pro AED
Fully-Equipped, semi-automatic automated external defibrillator (AED)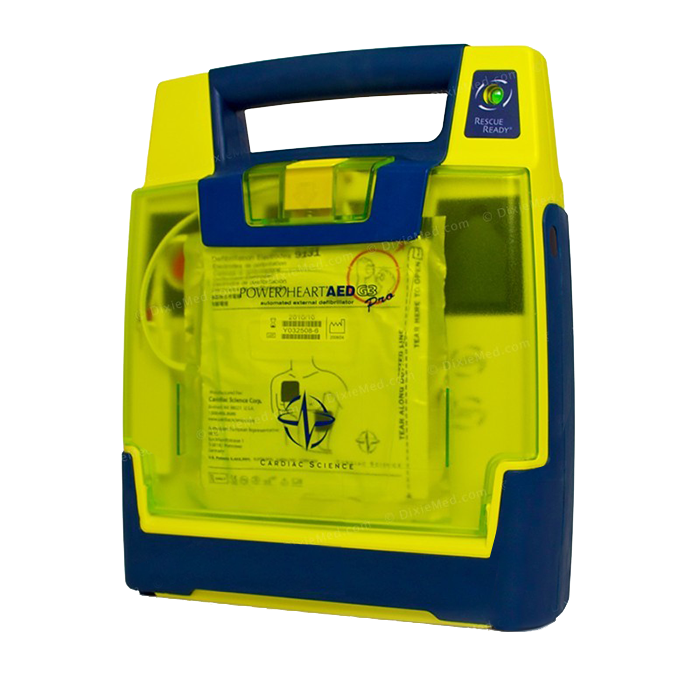 Cardiac Science
G3 Pro AED
Physical Dimensions
Height 3.3 in. (8 cm.)
Width 12.4 in. (31 cm.)
Depth 10.6 in. (27 cm.)
Weight 7 lbs. (3.2 kg.)
Cardiac Science G3 Pro AED – Features
Ease-of-use
Simple, easy-to-use, one-button operation.
Intuitive and comprehensive voice prompts guide user through rescue.
RescueReady® Reliability
Patented RescueReady® technology includes daily, weekly, and monthly self-tests of battery, internal electronics, software, and pads, which assures first time, every time shock delivery.
Innovative Technology
Configurable biphasic energy protocols and detection rates.
Optional 3 lead continuous ECG patient monitoring.
Includes…
7 Year Warranty – Unit
1 Year Warranty, or 12 hours (which ever occurs first) – Battery
1 Year Shelf Life on Pads
Available…
Replacement Pads and batteries
Wall units
Cardiac Science G3 Pro AED – Specifications
Operations
Semi-automatic with manual override
Waveform
STAR® biphasic truncated exponential
Allowable Energy Range (J)
Escalating Variable Energy (VE) 95J to 351J
Protocols
5 energy protocols available
Factory default (nominal)
Control button
Shock button and manual override
Voice prompts:
Clear, concise voice prompts guide user through the rescue
CPR prompts
Available with compressions-only CPR or CPR with rescue breaths
Display content
Displays written instructions to guide user through rescue process, SmartGauge battery status indicator, service indicator, pad indicator, text display, ECG display
Display specifications
3.5 in (8.9 cm) diagonal transreflective TFT display with 320 x 240 pixels (quarter VGA)
Resolution is 113.5 dots/in (4.47 dots/mm)