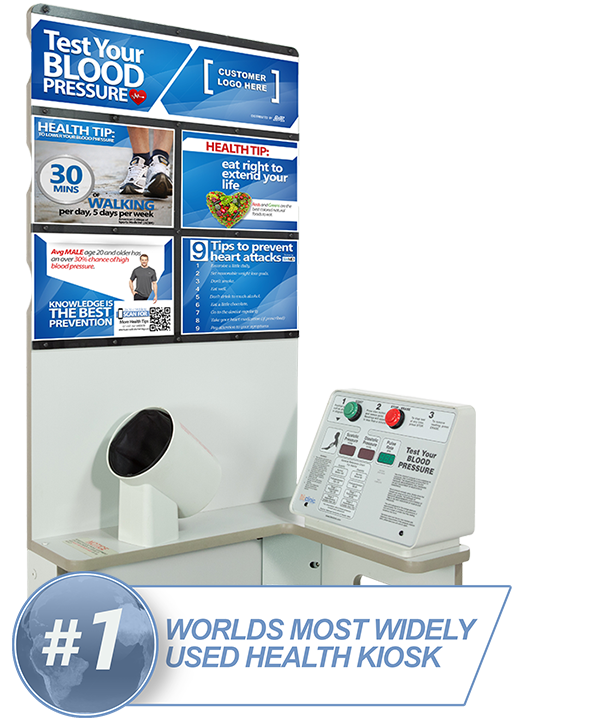 AMS equipment meets FDA standards.

All Health Monitoring Kiosks provided by American Medical Screening are comprised of medical grade electronic components.
Kiosks are manufactured within ISO 9000 inspected facilities and are designed to self-calibrate before each use.
If for any reason the computer cannot obtain enough data to provide an accurate reading it is programmed to give all 000's and the user is instructed to try again. In the event of a malfunction the monitor will display an error code for service maintenance which locks the monitor until the problem has been resolved.
The machine appears to me to be as good as a well-trained blood pressure technician."
– Joseph H. Chadwick, Ph.D., Director, Health Systems Programs SRI International (formerly Stanford Research Institute)
"The 90550 clinical trial was properly designed and executed via ANSI/AMMI SP10-1992 standards. Both systolic and diastolic blood pressure performance of the machine met the current requirements."
– Andrew H. Nara, M.D., Ph.D., FA.C.C., F.C.C.P., Associate Professor of Medicine and practicing cardiologist at University Hospitals of Cleveland in Ohio.
"Our results indicate that when the machine and a trained observer measure blood pressure simultaneously, there is very good agreement."
– Dr. David M. Berkson
"Blood pressure measurements correlated as well as did measurements by physicians and provided reliable determinations suitable for the purposes of screening, referral and monitoring of treatment."
– Dr. R. Patterson Russell, Associate Professor of Medicine at Johns Hopkins Medical Institution