Plus AED
Portable, fully compliant automated external defibrillator (AED)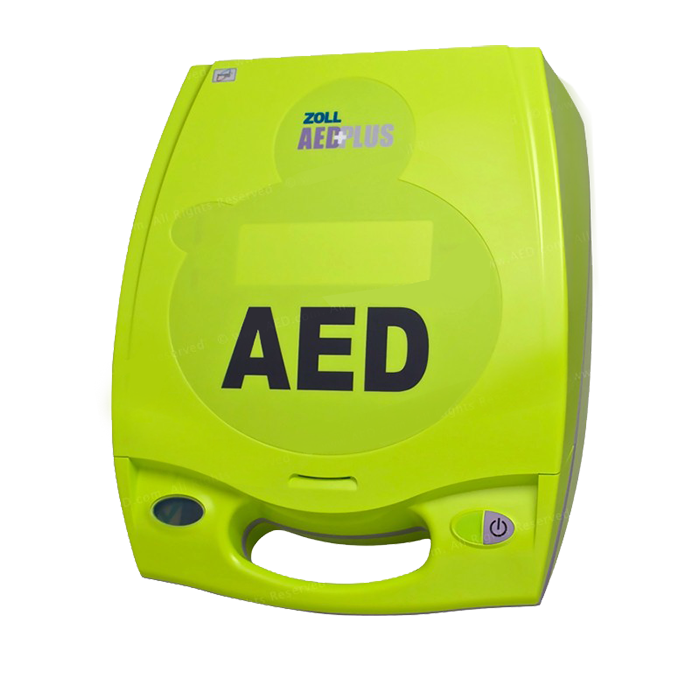 Zoll AED Plus
Physical Dimensions
Height 5.25 in. (13.3 cm.)
Width 9.50 in. (24.1 cm.)
Depth 11.50 in. (29.2 cm.)
Weight 6.7 lbs. (3.1 kg)
Zoll Plus AED – Features
Data Storage and Transfer
Proven Accuracy
Integrated, Full-view Data Collection
Battery and Electrode Compatibility
LED Display of Readings
Patient Monitoring
Configurable Storage for Maximum Manpower
Includes…
5 Year Shell Life on CPR-D-padz
5 Year Shell Life on Battery. End of life designated by Red X (typicalremaining shocks = 9).
Available…
Local Service
Replacement Pads and batteries
Wall units
Zoll AED Plus – Specifications
Waveform:
Defibrillator Charge Hold Time:
Energy Selection:
Automatic pre-programmed selection (120J, 150J, 200J)
Patient Safety:
All patient connections are electrically isolated
Charge Time:
Less than 10 seconds with new batteries
Electrodes:
ZOLL CPR-D-padz, pedi-padz® II or stat-padz® II
Self-test:
Configurable automatic self-test from 1 to 7 days.
Default = every 7 days.
Monthly full-energy test (200J).
Automatic Self-Test Checks:
Battery capacity, electrode connection, electrocardiogram and charge/discharge circuits, microprocessor hardware and software, CPR circuitry and CPR-D sensor, and audio circuitry
---
Display:
Display Format:
Optional LCD with moving bar
Size:
2.6″ x 1.3″; 6.6 cm x 3.3 cm
Optional ECG Viewing Window:
Optional ECG Display Sweep Speed:
---
CPR:
Metronome Rate:
Depth:
3/4″ to 3.5″; 1.9 to 8.9 cm
Defibrillation Advisory:
Evaluates electrode connection and patient ECG to determine if defibrillation is required
Shockable Rhythms:
Ventricular fibrillation with average amplitude >100 microvolts and wide complex ventricular tachycardia with rates greater than 150 BPM for adults, 200 BPM for pediatrics.
For ECG Analysis Algorithm sensitivity and specificity, refer to AED Plus Administrator's Guide.
Patient Impedance Measurement Range:
Defibrillator: